Your Support Will Feed Kids this Summer
Summer is here, and that means many children are enjoying their favorite summer activities like swimming, riding bikes, and enjoying delicious cookouts with family and friends.
But when schools shut their doors for the summer, thousands of our local kids who depend on the free school meal program are suddenly left without access to a healthy breakfast and lunch each day.
For these children, summer vacation is anything but a carefree time of happy memories. Instead, it's a time of worry, anxiety, and hunger. Summer months bring a spike in the number of families seeking food assistance at our local pantries. In Northeast Louisiana, 1 in 4 children face hunger. But you can help give them food and hope this summer.
Thanks to support from caring neighbors like you, the Food Bank provides kids with reliable access to a nutritious mix of food that will enable them to play, learn and grow, and maintain their health and well-being.
Please give today and help feed children and families in our community this summer. Every $10 helps provide about 30 meals!
Meet Michelle — Jackson Parish
When we met Michelle, she was waiting to pick up groceries at our Mobile Food Distribution in Jackson Parish. She told us that money was tight right now for her family, and that she and her husband were staying at a travel trailer park with their two children.
"This helps," she said. "I'm thankful for anything."
Michelle said she has previously visited a Food Bank food pantry in Jonesboro to help make ends meet.
"We visited a pantry to help us get on our feet," she said. "We didn't have anything in our refrigerator because we were paying bills."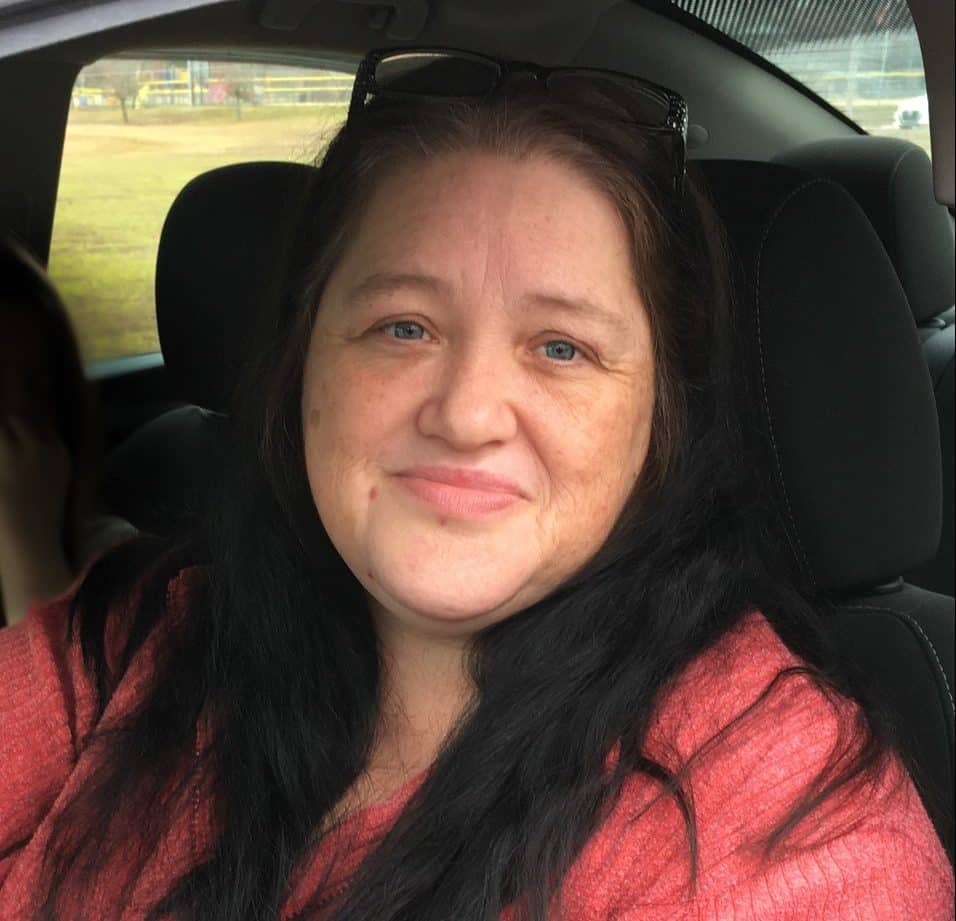 Our neighbors face tough decisions every day. Please help lift up a neighbor in need by supporting the Food Bank's hunger-relief efforts. Visit foodbanknela.org/donate today.
Volunteerism: A Passion to Help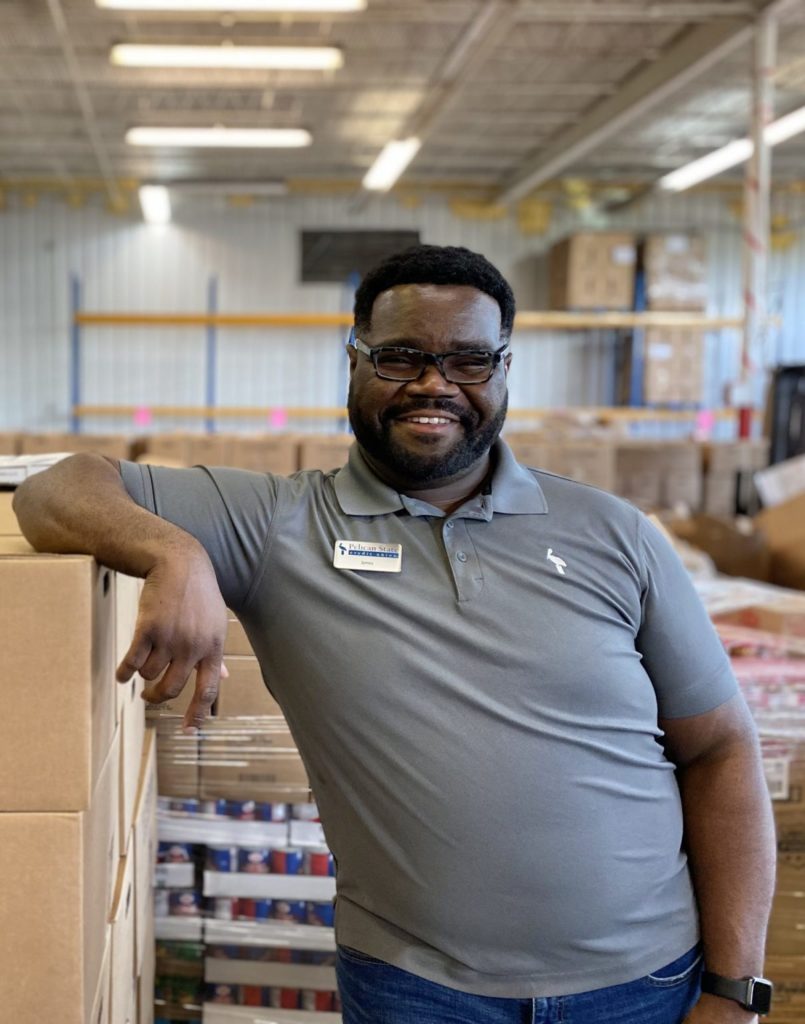 James' passion to help others is inspiring. James has been a dedicated volunteer at the Food Bank over the last three years.
"Food is the one thing that connects us all together," he said. "Me doing this and filling that need for those families just pushes me to be a better version of myself."
James is the Corporate Business Representative for Northern Louisiana at Pelican State Credit Union. When he's not working, he enjoys traveling, cooking and baking for his family.
James loves to care for and nurture things to see them grow into something bigger and better. So, when he learned that there were people in his community who needed help, there was no doubt he would continue volunteering at the Food Bank.
"I feel like time is the most valuable thing to donate because you're actually here, you see the process and you get more informed on what's going on," he said. "It's a minor thing that you can do that would greatly impact our community."
You can help make a difference for our neighbors in need by volunteering at the Food Bank. Sign up today at foodbanknela.org/volunteer.
Volunteerism: A Passion to Help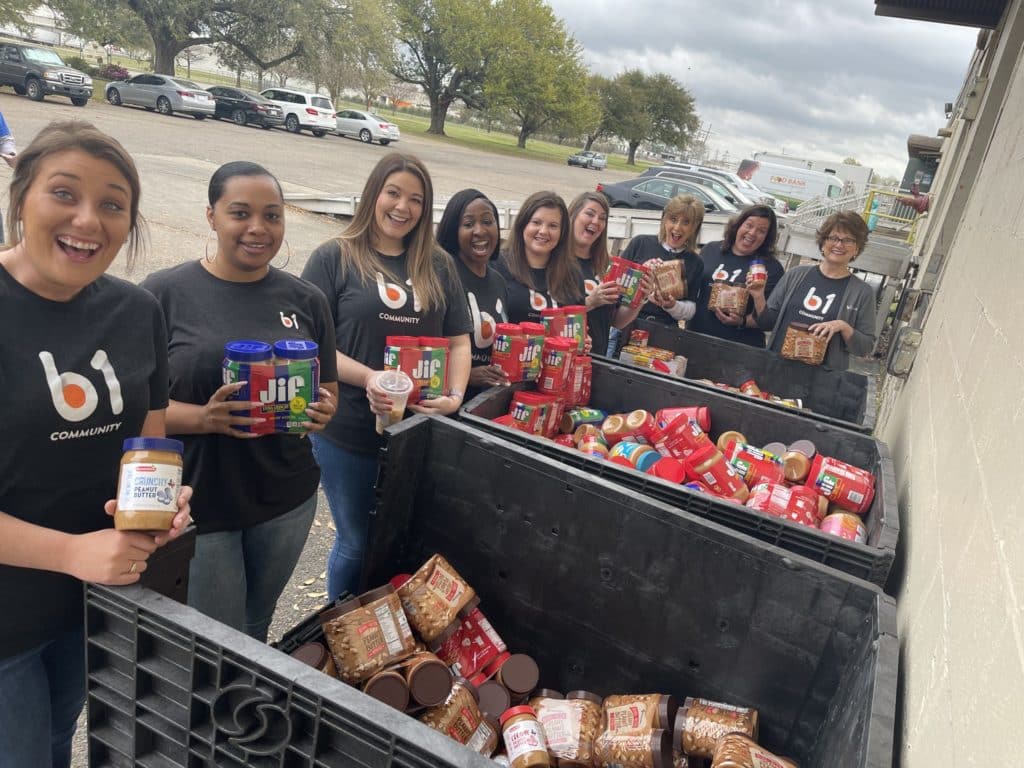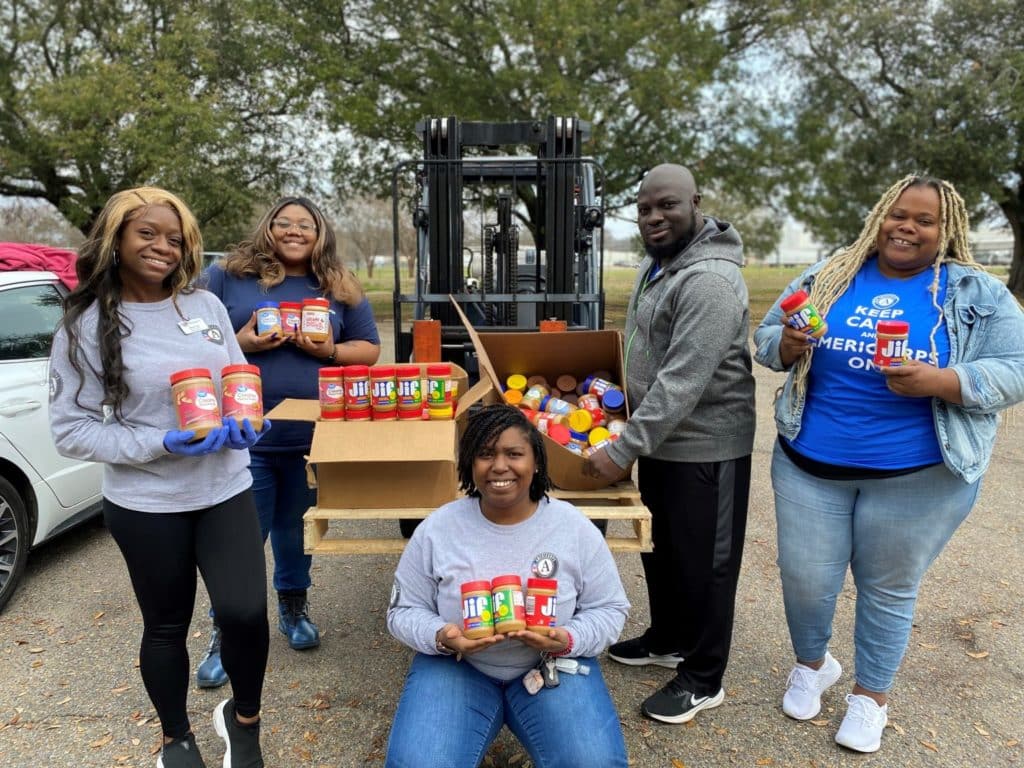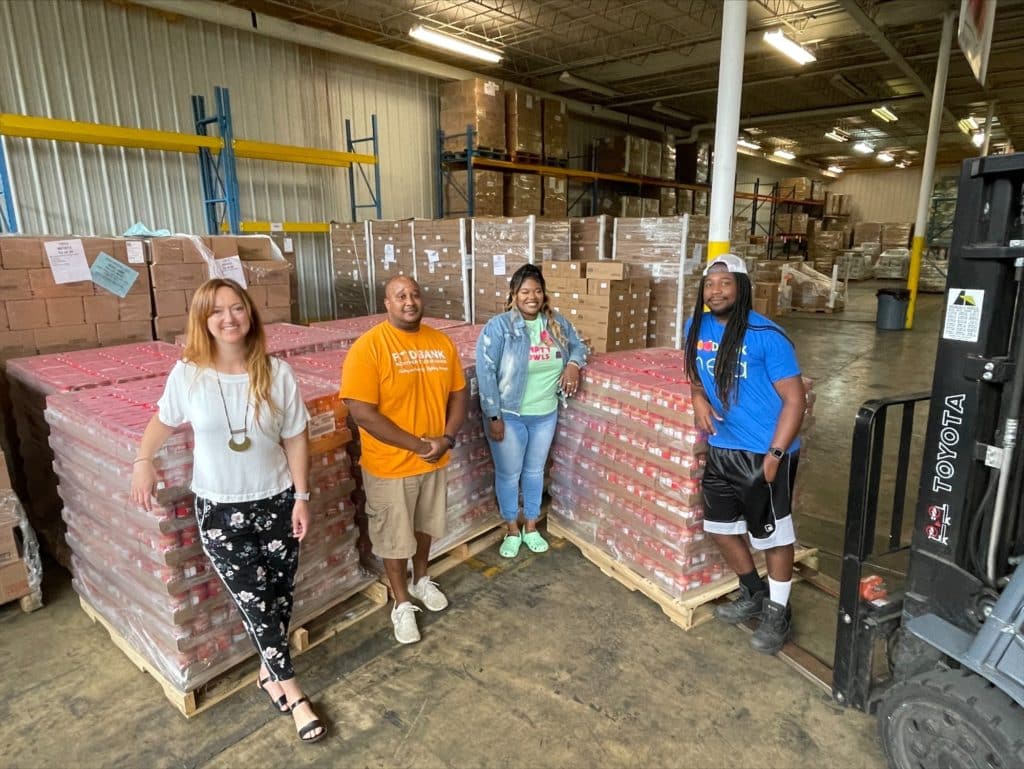 Our community donated over 15,000 pounds of peanut butter during our 2022 Spread the Love Peanut Butter Drive!
Individuals, local businesses, student groups, and even the National Peanut Board, donated peanut butter and helped us surpass this year's goal. Thank you to everyone who participated and helped feed our community!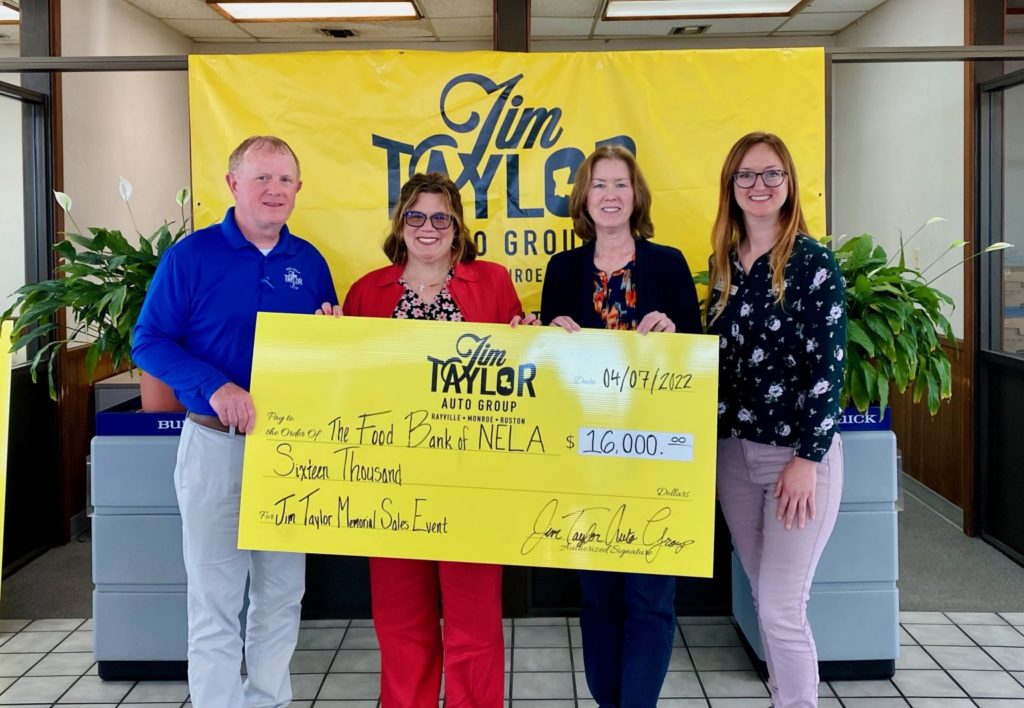 The Food Bank received an incredible donation from the Jim Taylor Auto Group of $16,000 from their annual memorial sales event! This gift will help provide over 48,000 meals to children, families and seniors facing hunger.
Thank you, Jim Taylor Auto Group, for all that you do for our community!
Empty Bowls Filled with Love
During Empty Bowls 2022, the Monroe Civic Center was filled with music, laughter, art and food. This year's event raised funds that will help provide about 150,000 meals to children, families and seniors who face hunger in Northeast Louisiana.
This event wouldn't be possible without the wonderful artists, food vendors, sponsors and musicians who give their time and talents to help others. Please support these businesses when you can!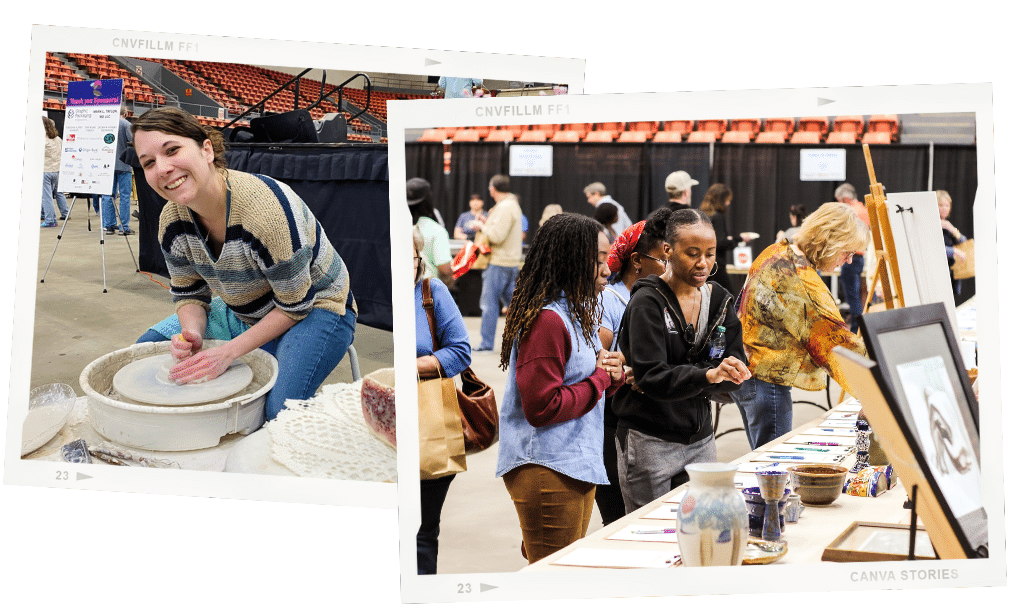 Graphic Packaging • Mark L Taylor, MD, LLC • The Webb Family • Virginia & Joey Haddad • Jackie & Robert Hendrick • JP Morgan Chase • Louisiana Plastic Industries • John Rea Realty • First Horizon Bank • Origin Bank • Homeland Bank • Entergy Louisiana • Babs Oakley • Kilpatrick Funeral Homes • Vantage Health Plan • Eddleman Dental • Miracle Outlook Regina Jackson • Dr. Jeffrey & Danna Hilbun • The Spice & Tea Exchange • Thomas & Farr • Peggy Sullivan – State Farm • Creed & Creed • North Delta Title • Cummins & Fitts • BayouLife Magazine • Associated Business Printing • Independent Insurance Agents of Ouachita, Inc.
GoodEarth Eatery • Grown & Grazed • Chef Pat Nolan • JAC's Craft Smokehouse • Taste of India • Newk's Eatery • CC's Coffee House Monroe • Braiz'n American Bar & Grill • Thurman's Food Factory • The Fat Pelican • Sweet Loves Bakery • 2Dudes Brew & Que • M&K House Kitchen • Mae Bird Coffee
Toc-Toc Troubadours, Musicians • Leigh Buffington, Painter • Alyssa Guidry, Ceramicist
Ann Johnston Currie • Alyssa Guidry • Brooke Cassady • Dianne Asby • Gary Ratcliff • Halie Burnside • Lexi Smith • Megan Smith • Robin Rosalis • Veronica Lewis • Sarah Hoffman • Sheila Floyd
Angela Benson Doyle • Ann Johnston Currie • Ashley Doughty Able • Babs Oakley • Bryan Creekmore • Brooke Cassady • Ernest Finch • Hope Anderson Fruge • James Callender • Joey Haddad • Patti Morris
Thank you to everyone who supported our mission through this fundraiser – See you next year!
These organizations generously gave $2,500 or more to help our neighbors who face hunger.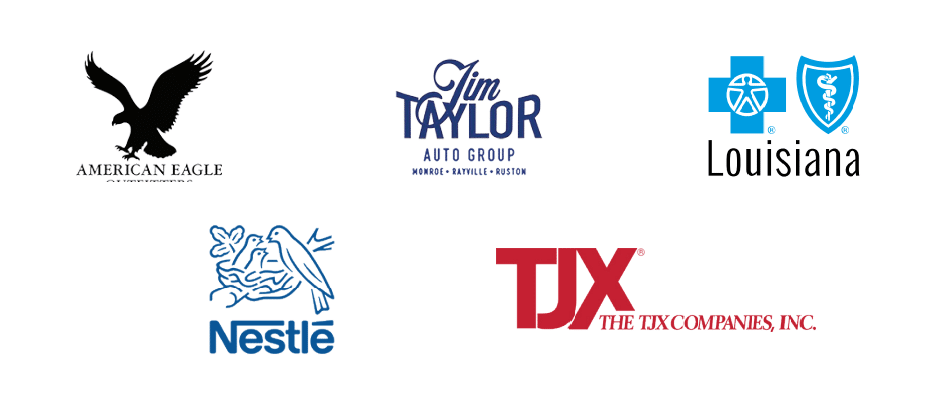 Please contact our Director of Development at 318-322-3567 if your organization is interested in sponsorship or employee engagement opportunities.
Our Vision is a strong, caring community that ensures no one in Northeast Louisiana goes hungry.