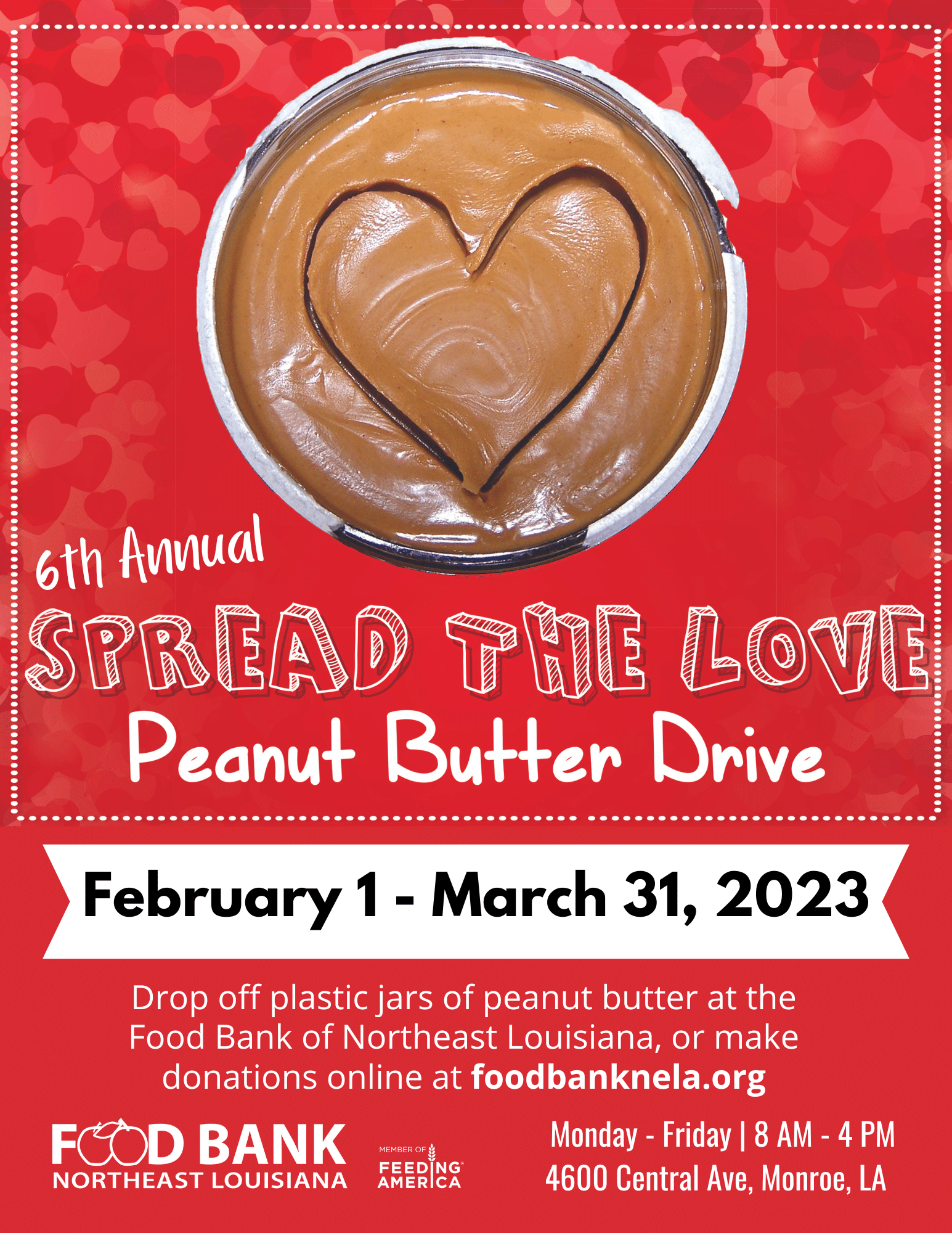 6th Annual Spread the Love Peanut Butter Drive
Join the 6th Annual Spread the Love Peanut Butter Drive to benefit the people served by the Food Bank of Northeast Louisiana. Over 57,800 people in Northeast Louisiana struggle to put food on the table for their families. That includes over 22,300 children. Peanut butter is a much-needed item at Food Banks because it's a protein-packed food that kids and adults love. Each year, the Spread the Love Peanut Butter Drive helps the Food Bank provide thousands of jars of peanut butter to people in a 12-parish service region. Our goal this year is to raise 5,000 pounds of peanut butter! The drive is open to all residents in Northeast Louisiana. Members of the community are encouraged to donate peanut butter in plastic jars, or monetary funds to the Food Bank by Friday, March 31. Donations of peanut butter can be dropped off at the Food Bank located at 4600 Central Avenue in Monroe, Monday-Friday between 8:00 AM-4:00 PM. Monetary donations can be made
here
or by calling 318-322-3567. If your group or business would like to hold a collection for this food drive, give us a call and we can provide you with a flyer that you can print or post on social media. Our staff can help you set a goal for your drive, and possibly give you a shout-out on social media. We also love it when groups challenge each other to see who can collect the most! Get creative and have fun!
When: February 1, 2022 – March 31, 2022
Where: Food Bank of Northeast Louisiana
4600 Central Avenue, Monroe, LA
*Please Note:
• As plastic is more durable and safer to store than glass, we appreciate your donations of only plastic jars of peanut butter. • All nut butters and substitutes are accepted! We know some schools have a peanut free policy, so feel free to collect non-peanut butters.