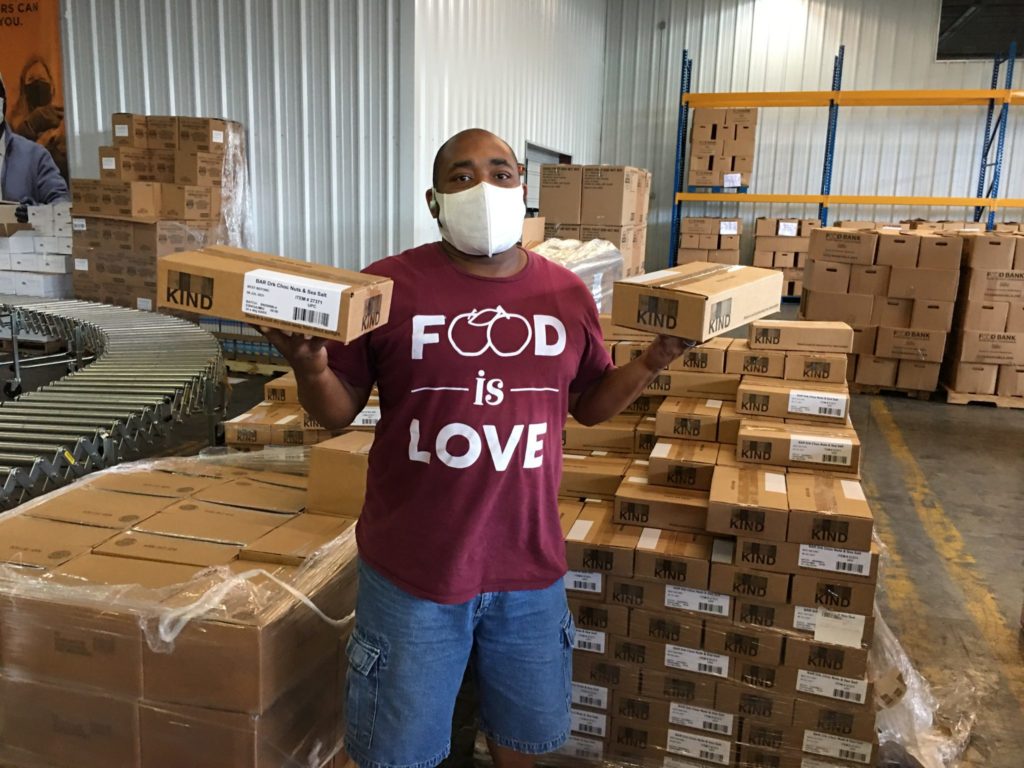 KIND, a company with a mission "to make the world a healthier and kinder place," made a donation of 150,000 KIND Bars. 
These bars are being provided to children, families and seniors who face hunger in our area.
"We are so thankful that KIND has made such a wonderful donation to our community," said Jessica Bostic, Director of Operations.
"Healthy snacks can sometimes be a challenge to purchase when trying to make the most of your budget, so our neighbors that struggle to make ends meet will appreciate these KIND Bars."
Friends of the Food Bank – Monthly Giving Program
Over 66,000 people are facing hunger in Northeast Louisiana, including over 24,000 children. A need this great calls for reliable, steady support. We invite you to join our Friends of the Food Bank monthly giving program, and join a group of dedicated supporters who are committed to fighting hunger year-round. 
When you give a generous gift each month, you'll help provide nutritious food for neighbors struggling to make ends meet through every season. 
To join Friends of the Food Bank, sign up by checking "Monthly Gift" when entering your credit card information on the enclosed slip, or enroll online at www.foodbanknela.org/give-monthly. You can change your gift amount or cancel enrollment at any time.
If you have questions about becoming a monthly donor, please call Sarah Hoffman at 318-322-3567.

Corporate Partnership Spotlight – Drax Biomass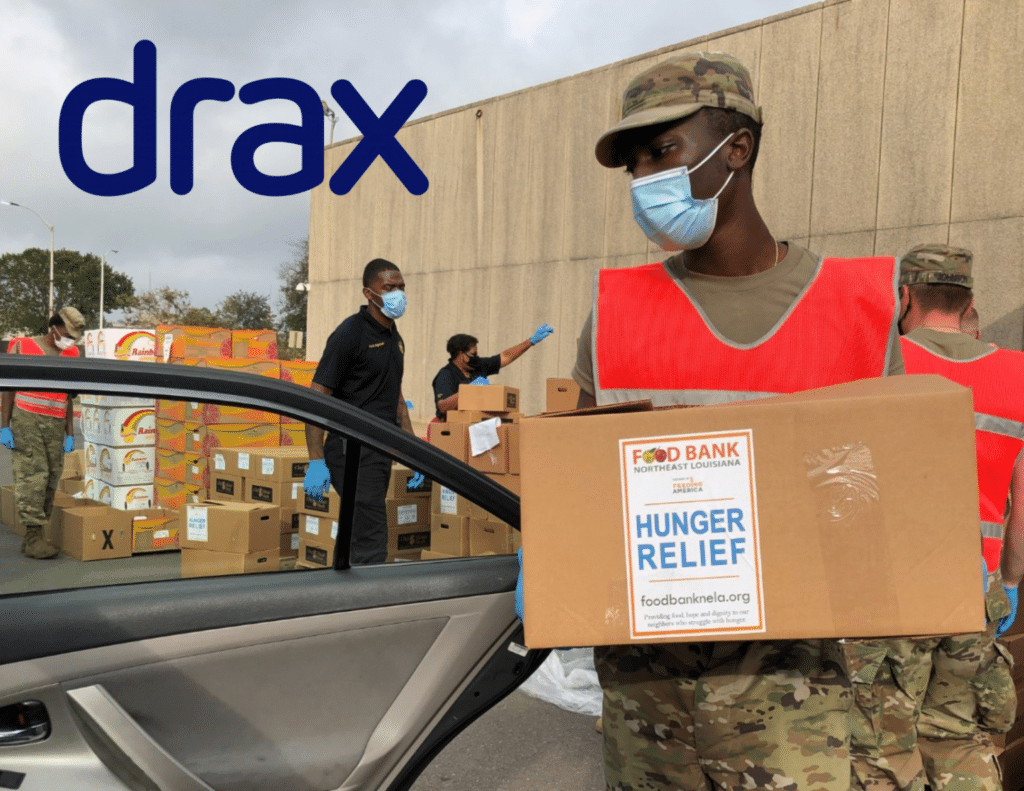 Headquartered in Monroe, Louisiana, Drax Biomass operates two pellet plants in Louisiana and ships pellets via the Port of Greater Baton Rouge. The organization generously supports the Food Bank with financial contributions and through volunteerism. 
Annmarie Sartor, Communications Officer for Drax, tells us more about their business and why supporting the Food Bank's hunger relief efforts is important to them:
Tell us a little bit about your organization:
Drax owns and has interests in 17 pellet mills in the Southern US and Western Canada, which have the capacity to manufacture 4.9 million tonnes of compressed wood pellets (biomass) a year.
Why does your organization choose to support the community through the Food Bank of NELA? 
Drax Biomass supports its communities in a variety of ways – focusing on education, economic development, essential needs, disaster relief, and other basic needs. The Food Bank provides critical services to those who are food insecure and to agencies who support these individuals and families.
What would you tell someone who is thinking about supporting the Food Bank?
Meeting basic needs like food, clothing and shelter is step one in empowering people to become self-sustaining. In northeast Louisiana, more than 66,000 people are facing food insecurity, a large percentage of them children. 
The Food Bank is on the front line of providing food to these individuals and families, either directly or through multiple agencies and organizations who feed people. How can we ever go wrong or question the decision to support these efforts? 
We thank Drax and other businesses that support the Food Bank's hunger relief efforts. Whether your organization makes a financial contribution, donates food, or volunteers, businesses make a difference in feeding those in need in our community.
Contact us today to discuss opportunities for your organization to get involved.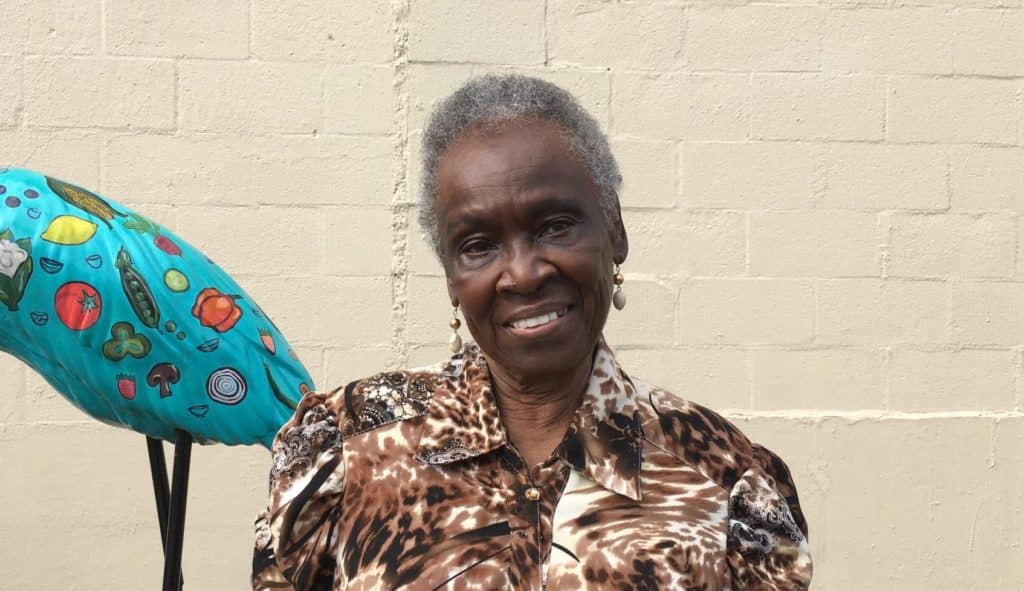 Mary has been on the Food Bank's Senior Program for over two years and loves to receive fresh groceries like fruits, sweet potatoes and eggs, which she uses to cook and bake with.
"I love eggs. I eat them every day," said Mary. "There are a lot of things in the box that I enjoy, and I'm thankful for them."
Mary told us she is diabetic and said the fresh fruit and milk provided by the Food Bank helps her keep a healthy diet.
"It has helped me tremendously," Mary said. "I live alone, and it helps supply me with food."
The Food Bank's Senior Program provides over 1,400 low-income seniors with fresh produce and a 30-pound box of nonperishable foods each month.
A gift of $100 can provide low-income seniors like Mary with a box of food every month for an entire year. Visit foodbanknela.org and give today.
Organizations That Power Our Programs
These organizations helped feed our neighbors with their generous gifts of $2,500 or more:
Amcor Cares
Beard Mobb Louisiana
Booz Allen Foundation
Brookshire's Grocery Co.
ConAgra Lamb Weston
Subaru of America
Walmart & Sam's Club
Our Vision is a strong, caring community that ensures no one in Northeast Louisiana goes hungry.