You Made a Difference for Families Impacted By Coronavirus
The Coronavirus pandemic continues to affect people all over the world, and it certainly has hit right here at home in Northeast Louisiana. School and business closures, along with reduced hours have created a sharp
increase in the need for food assistance. With so many of our neighbors struggling, it is your support that allows the Food Bank to continue fulfill our mission to provide food, hope, and dignity to our neighbors who struggle with hunger.
Your donations help us to feed thousands of families every week, and this is one story of the difference you have made for a local family.
Kevin and Renee drove an hour from West Carroll Parish to the Food Bank in Monroe to get help for their family of five. Kevin is a heavy equipment operator, and his hours have been cut in half due to the Coronavirus. Renee had just started classes to pursue a career in nursing when the pandemic began, and has been able to continue her education online. Their three children, Serenity, Isabelle, and Elie are now home all day because of the school closures, and for the first time, Kevin and Renee are reaching out for help with food.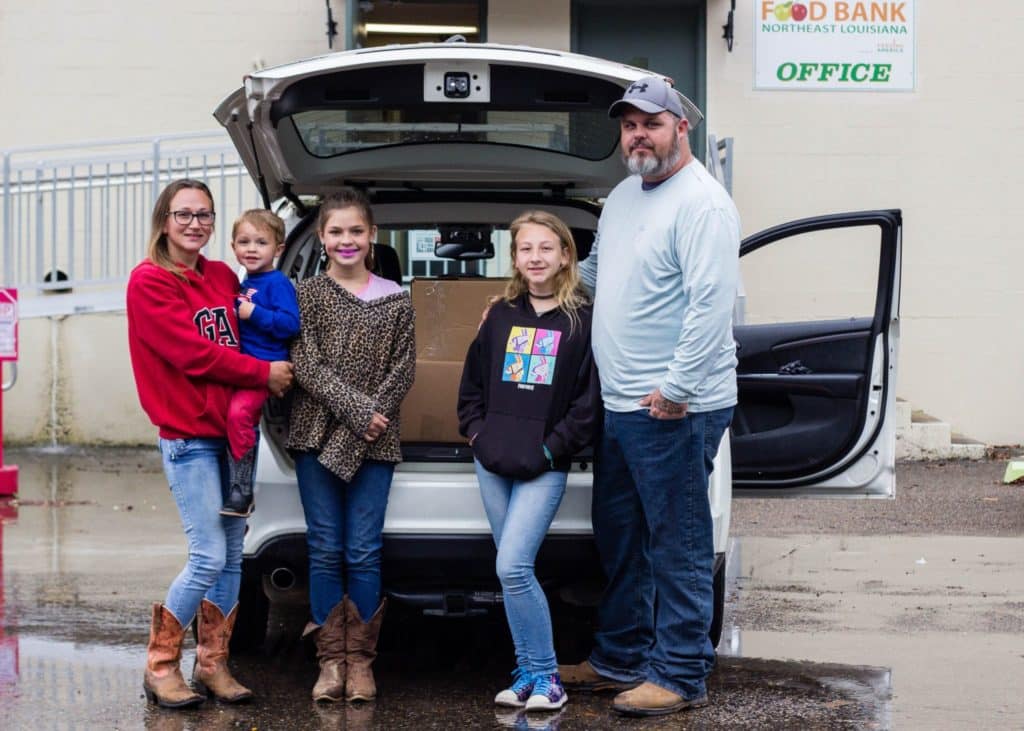 "It's been hard on the kids being out of school; it's not like summer vacation where we can go places. It's hard to keep them fed too," said Renee.
This is a sentiment we've heard from so many parents lately. With kids no
longer receiving meals at school, family food budgets are stretched thin. Add to that a decrease in income, and you've got a lot of families struggling to make ends meet.
"It's awesome that people are coming together during this time of need," said Renee. "There are a lot of families like us who need the help right now. Thank you!"
Your support helps us provide children, families, and seniors with food during this difficult time. Thank you!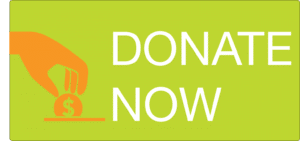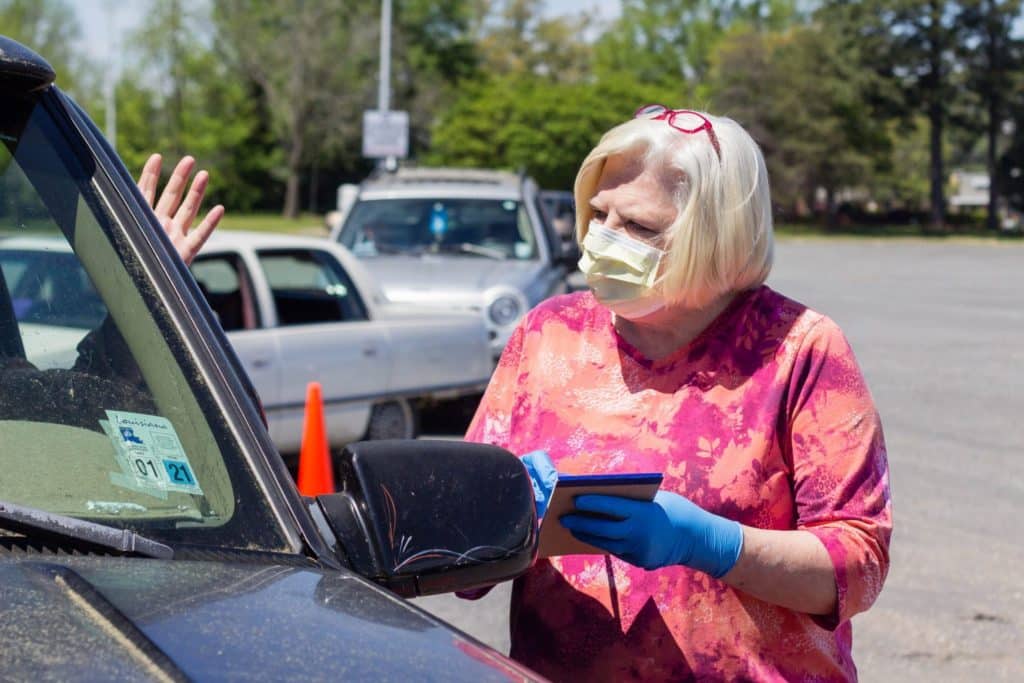 So many heroes have emerged since the outbreak of the Coronavirus. Healthcare workers, grocery store workers, and first responders have been working tirelessly to keep us healthy and fed. Other heroes many don't see are the people who operate food pantries that serve those in need in our community.
These selfless men and women have continued to distribute food to our neighbors, serving even more people during this time of increased need. We have over 60 programs and partners that provide food to people in need in the 12 parishes we serve, and below is the story of one pantry program.
The Care & Hope Ministry food pantry in Bastrop has been partnered with the Food Bank of Northeast Louisiana since 2010. The area they serve has a high rate of unemployment since the closing of a paper mill in 2010, and that number has risen because of the pandemic. Their food pantry currently serves over 500 families every month.
Pam's husband Keith is undergoing cancer treatments, so she is concerned about the Coronavirus. Pam is taking extra precautions, but feels it is extremely important to continue food distributions at her pantry.
"We have so many in our community who depend on this food," said Pam. "They've told us they can't make it without this help, especially our senior citizens." "Dealing with this pandemic is stressful, and if we can alleviate some stress so that people aren't food insecure, that will be one less thing for them to worry about," Pam said. "I pray that the Lord keeps us safe."
We want to thank all of our Community Partners for their hard work and dedication to hunger relief. They are our Hunger Relief Heroes!!
In need of food? Click here to find a Food Bank pantry near you!
The Food Bank relies on thousands of volunteers to pack and distribute tens of thousands of pounds of food each year. When the pandemic brought our volunteer program to a halt, the Louisiana National Guard came to the rescue. From March through June, men and women of the 527th and 528th Engineering Battalions worked long and hard to ensure that our hunger relief efforts continued. They assembled and packed thousands of boxes of food, hundreds of BackPacks and bags of fresh produce, and gave out food
to our neighbors in need at multiple pop-up distributions. We can't imagine what the past few months would have been like without the help of these brave men and women.
Thank you for your service!!
Your Support Helped Us Feed Thousands More Neighbors!
What Your Help Means to Others
We met Lana at one of our pop-up distributions. She told us she hardly slept the night before because she was worried about getting there to get a food box. She and her dog Gizmo got to the distribution at 5:30 AM, almost 5 hours before it was scheduled to start. Lana is disabled after a poor outcome from a spinal surgery 6 years ago, and told us how much the groceries from the Food Bank mean to her.
"Thank you to everyone involved, it is very helpful. God bless you!"
Generous Organizations Make a Big Difference
Our Food Bank relies on the support of hundreds of individual donors in our community, but we also receive gifts from companies and organizations. We would like to say thank you to the following organizations who gave at the $2,500 level and above since the beginning of the year:
AARP
Amcor Foundation/Bemis
AmeriHealth Caritas
Atmos Energy
Bancorp South
Blue Cross Blue Shield of Louisiana
Brookshire's
Drax Biomass
Drew Brees
Feeding America
Graphic Packaging
Iberia Bank
Jackie & Robert Hendrick
LA Conference of the United
Methodist Church
Lamb Weston
Louisiana Farm Bureau Insurance
Louisiana Healthcare Connections
LWCC Foundation
Media Ministries – 88.7
The Cross Listeners
No Kid Hungry
Nutrien Ag Solutions
Origin Bank
Perry Foundation
Professional Fire Fighters
Assoc. of Louisiana
Scott Powerline
Southern Poverty Law Center
Thomas H. & Mayme P.
Scott Foundation
Virginia & Joey Haddad
Contact us to find out how your organization can get involved in local hunger relief efforts.
Looking for ways to help?