Grant will help food bank support mobile food pantries in areas with high food insecurity rates.
[MONROE, LA] (MARCH 24, 2021) – The Food Bank of Northeast Louisiana today announced it is receiving a grant from The Humana Foundation to assist with mobile food pantries in Madison and Tensas parishes. The investment will help The Food Bank of Northeast Louisiana improve access to nutritious food by providing direct assistance to rural communities, including households disproportionately affected by hunger.
"As a result of the COVID-19 pandemic, over 66,000 of our neighbors in Northeast Louisiana are facing hunger," said Jean Toth, Executive Director of Food Bank of Northeast Louisiana.  "Throughout our response to this health and economic crisis, mobile food pantries have become a critical solution to helping us reach our neighbors in need. We are grateful to The Humana Foundation for supporting our efforts of expanding mobile food pantries to better serve our rural communities, which experience high rates of food insecurity."
"Improving food security is one of The Humana Foundation's core areas of focus. In communities where nutritious foods are inaccessible due to proximity, financial circumstances, and other barriers, this gap leads to preventable chronic diet-related conditions like diabetes and heart disease. The Humana Foundation is proud to continue our partnership with Feeding America as we work to achieve greater health equity and our shared goal of ensuring that everyone has the nourishment necessary to achieve and sustain positive health and well-being outcomes," said Walter Woods, CEO of The Humana Foundation.
The mobile food pantry program serving Madison and Tensas Parishes will provide nutritious food to about 450 families each month beginning in April of 2021. Details on these and other food distributions can be found at foodbanknela.org.
Mobile food pantries are a promising solution for addressing challenges, such as distributing foods that are more perishable and reaching underserved communities. The Food Bank of Northeast Louisiana has been able to adapt mobile pantry programs to adhere to CDC guidelines and reach communities in need.
To learn more about how you can join the fight to end hunger, visit foodbanknela.org.
For those who need food assistance in other parishes of Northeast Louisiana, visit our Find Food page for a full list of pantries.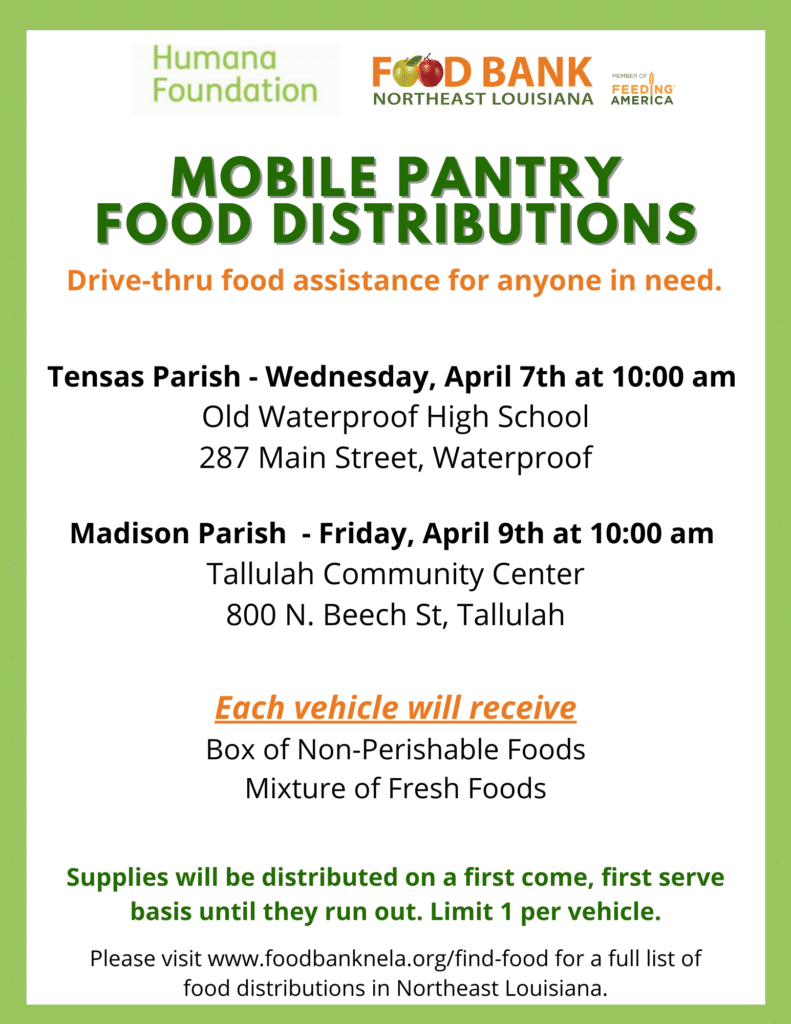 About The Food Bank of Northeast Louisiana
The Food Bank of Northeast Louisiana leads the fight against hunger in our region by providing food, advocacy, education, and disaster response. The Food Bank is a charitable organization that solicits, stores, and distributes food to partner agencies, children and seniors in 12 Parishes in Northeast Louisiana. Together, as a hunger-relief network we serve over 30,000 people monthly. The Food Bank of Northeast Louisiana is a member of Feeding America. To learn more about how you can help, please visit www.foodbanknela.org. Follow us at www.Facebook.com/fbnela, or on Twitter and Instagram @fbnela.
About The Humana Foundation
The Humana Foundation was established in 1981 as the philanthropic arm of Humana Inc., one of the nation's leading health and well-being companies. Located in Louisville, Ky., the Foundation seeks to co-create communities where leadership, culture, and systems work to improve and sustain positive health outcomes. For more information, visit humanafoundation.org.
Humana and The Humana Foundation are dedicated to Corporate Social Responsibility. Our goal is to ensure that every business decision we make reflects our commitment to improving the health and well-being of our members, our employees, the communities we serve, and our planet.