New Tensas Parish Mobile Pantry
About 20 percent of our neighbors living in Tensas Parish may face hunger in 2021. According to recent estimates from Feeding America, 36% of children there may live in households that experience food insecurity. Thanks to community support, the Food Bank was able to provide about 32,000 meals to children, families, and seniors in Tensas Parish during FY 2020.
With such a high need for assistance, the Food Bank and our partners are working to increase the amount of food distributed in some of our rural parishes. Recently, we were able to start a monthly Mobile Pantry in Tensas Parish and will provide 150 families with nutritious nonperishable pantry staples and fresh produce.
We met 73-year-old Louise and her dog, Mickey Rooney, at the Mobile Pantry in April. She has lived in the town of St. Joseph in Tensas Parish since 1968. Louise told us that she lives on a fixed income, which can make it difficult to get everything she needs each month.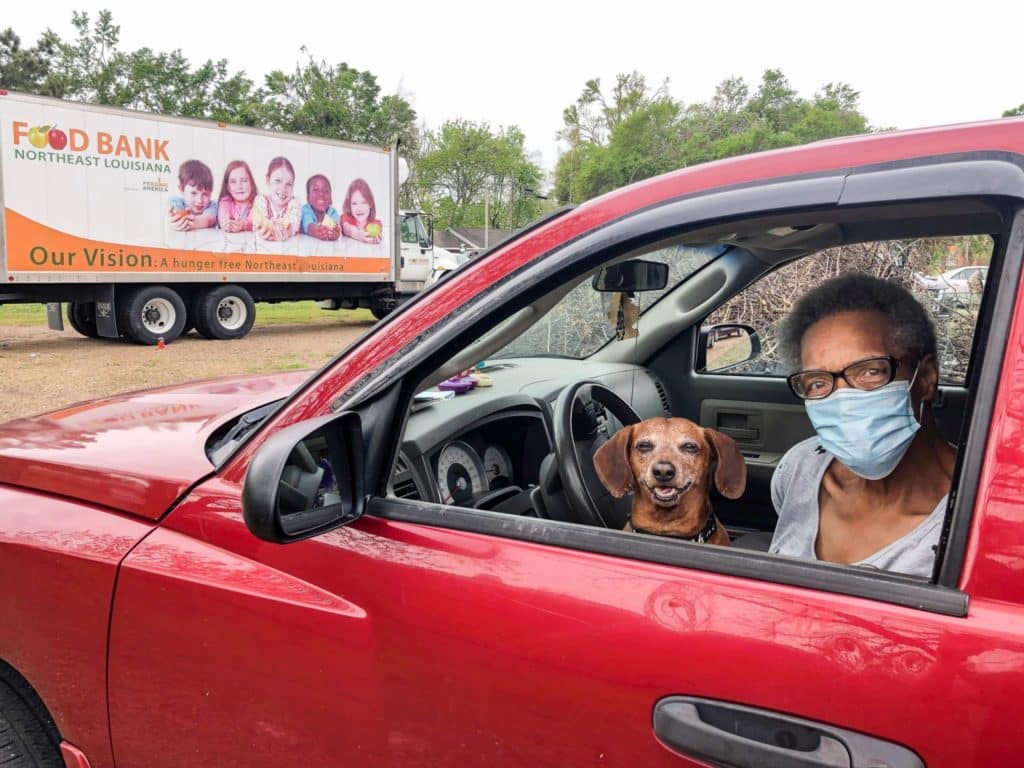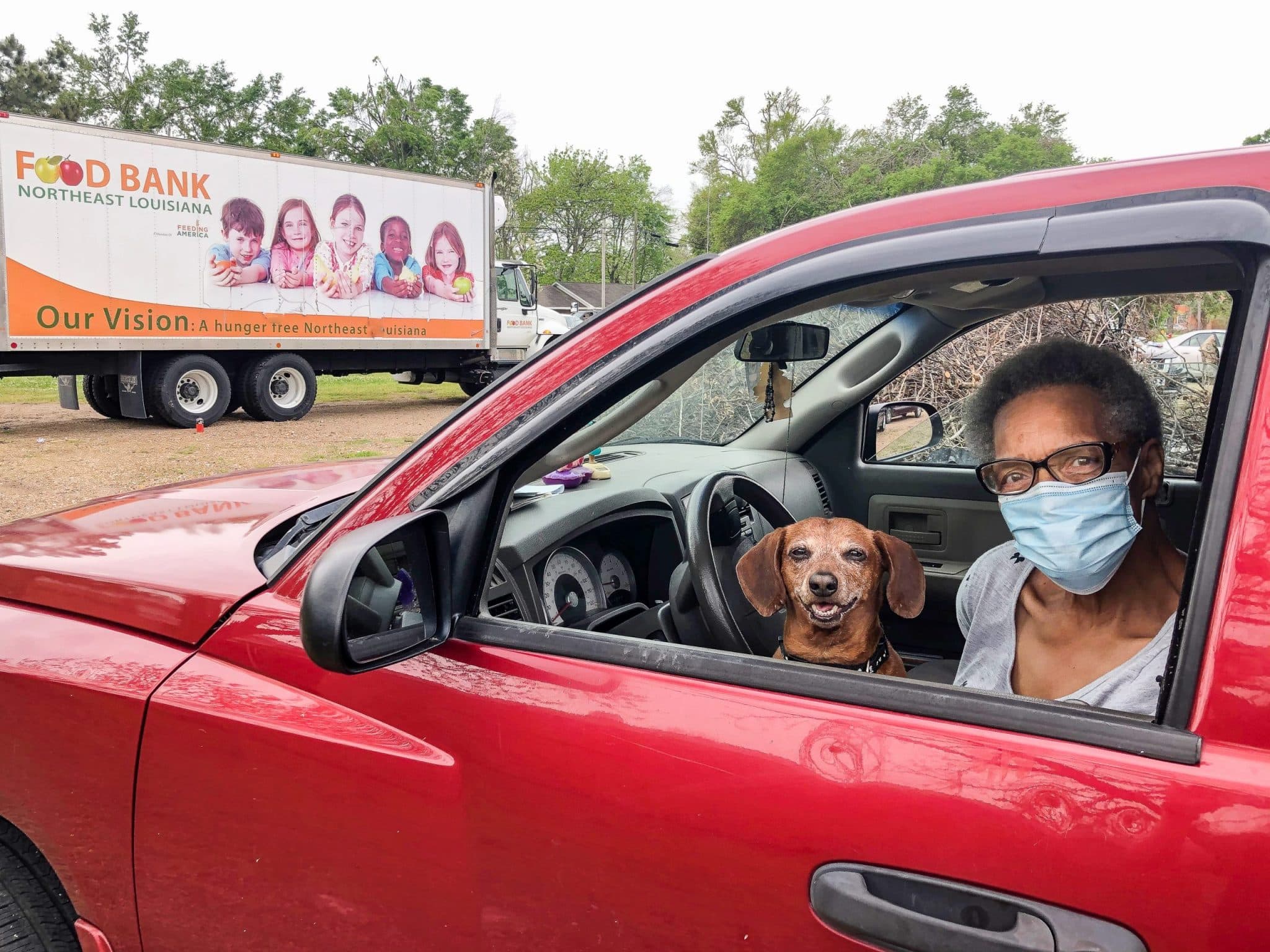 "I'm very grateful for those who make it possible," said Louise.
Your support will help our neighbors like Louise get enough to eat. Just $10 will help provide about 55 meals to children, families, and seniors.
Supporter Spotlight – Liz Blackman
Liz Blackman has been supporting the Food Bank for around five years and is now a part of our Monthly Donor program. After her day job as the controller for Delta Healthcare Management in Bastrop, she spends her free time with her two adult children and five grandchildren. We recently asked her to tell us more about her passion for the Food Bank's mission.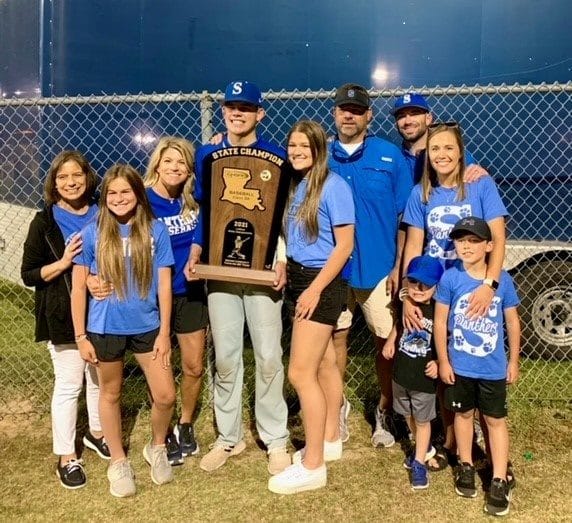 Why do you choose to support your community through the Food Bank of NELA?
I have never, personally, known hunger. However, I am not blind to the fact that it is a very real problem in our area. Too many parents struggle to feed their children, and far too many of our elderly population live on meager incomes.
What made you decide to be a monthly donor?
I became a monthly food bank donor to give back to the community that has been so good to me. I have been a long-time supporter of the Scouting for Food and Stamp out Hunger drives. It just made sense to enroll in automatic deductions.
What do you wish other people knew about the Food Bank?
I sometimes think others may not realize the need that is out there or the impact even a small gift can make. I am amazed by the work the Food Bank does, and hope to be more active as a volunteer when the day comes that I decide to retire. I would encourage everyone to help support the Food Bank in any way they can.
If you're interested in becoming a monthly supporter like Liz, click here to start your sustaining gift. Your monthly gift will help provide food to children, families, and seniors year-round!
Serving Others Brings Joy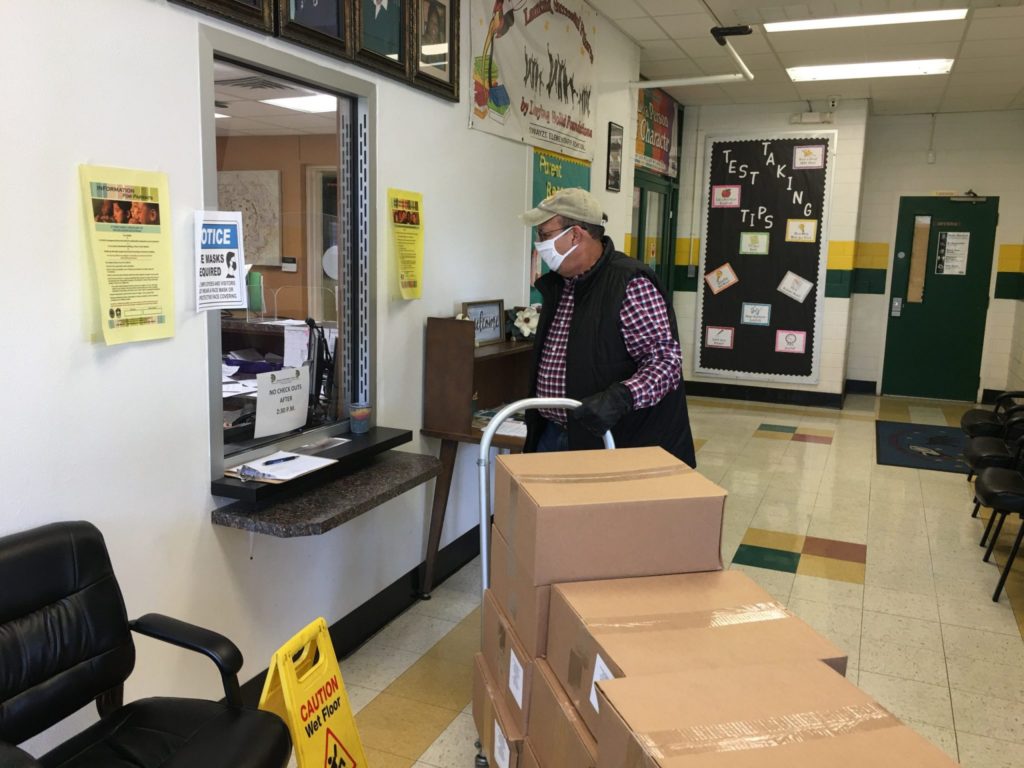 After working 43 years in the fast-food industry, Alan Barth's desire to serve others has not retired.
Alan and his wife, Gaynell, started volunteering at the Food Bank 11 years ago through their membership with the Rotary Club of the Twin Cities. Over the last year, they have been delivering food to local schools for our BackPack for Kids Program.
"It keeps me out of trouble," Alan joked. "I just really enjoy it."
Alan says knowing there are children in need of the food provided by the Backpack program makes their experience volunteering with the Food Bank worthwhile.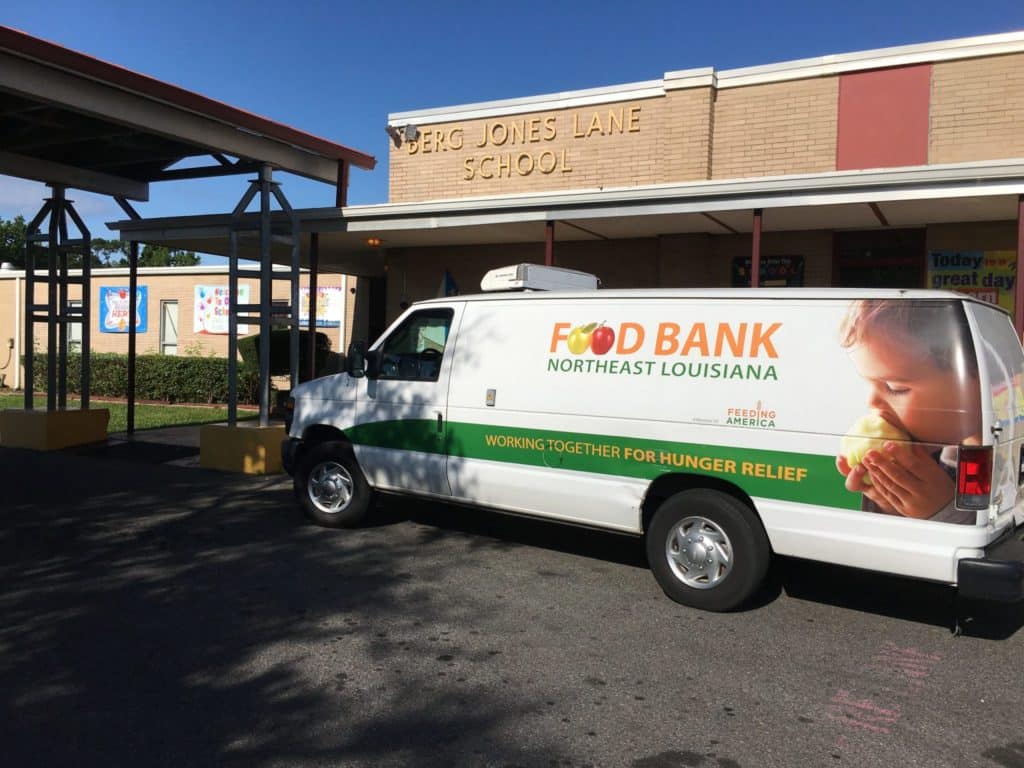 "This has always been one of our favorite activities," he said. "I just think it's a great way that we can provide."
We anticipate welcoming volunteers back this fall. Fill out the Volunteer Application on our website to be notified of openings.
Pantries Help Hardworking Neighbors Make Ends Meet
Jacqueline stood outside in the drizzling rain, waiting to receive groceries at Food Bank Partner Agency Rays of Sonshine. Jacqueline, a proud mother of three, takes the bus every day to work. She told us she has struggled with low paying jobs over the last year, but recently started a new job that pays above minimum wage.
Thanks to the food she receives from the pantry, she is able to use her hard-earned money to pay bills.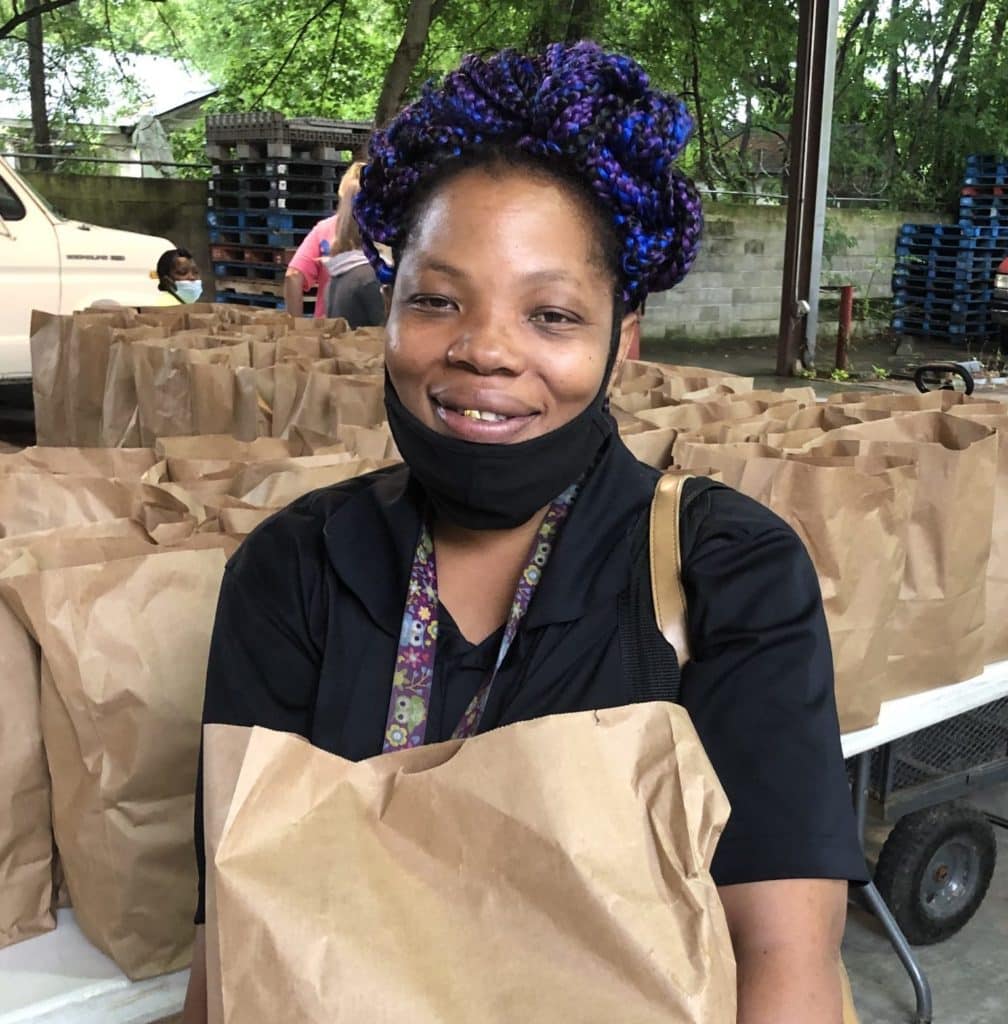 "Every month that I get the food, I can take care of everything in the household," she said. "I have enough to make meals every day, all day."
Jacqueline loves receiving foods like butter, flour, meats, and other ingredients to cook with, along with juice to take with her medications.
"I'm well blessed every month," she said. "That's what they did for me, for a whole year."
Thank you for helping families like Jacqueline's. Make a difference year-round by becoming a monthly donor today.
Jackson Parish Hunger Relief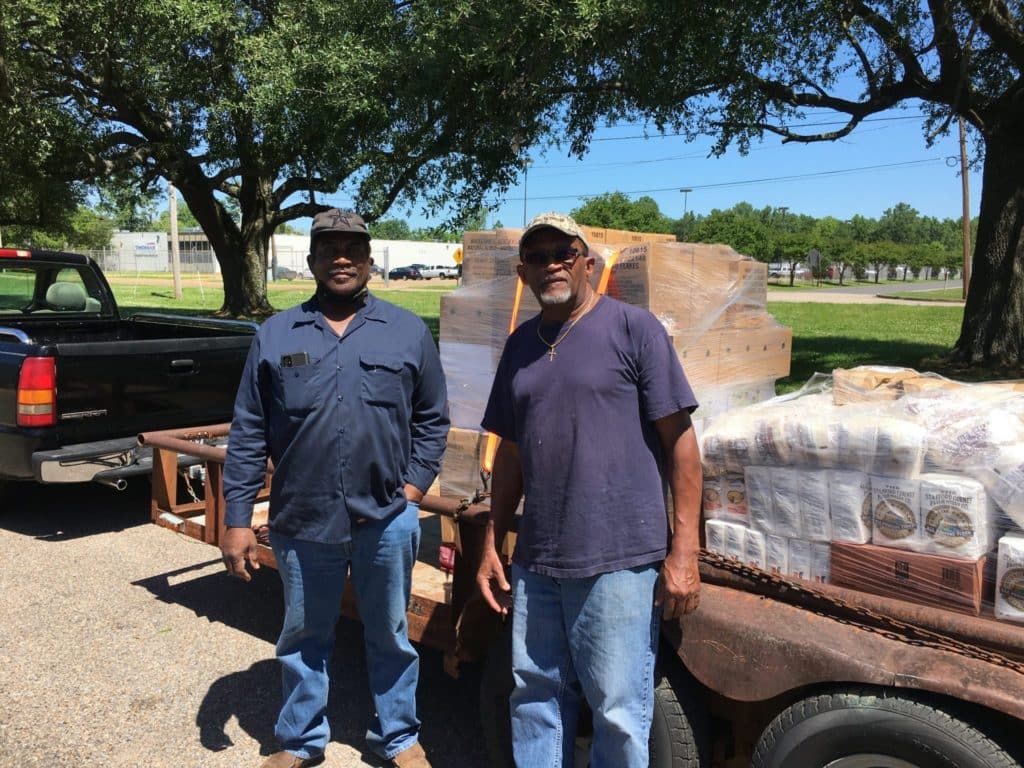 The Food Bank serves about 30,000 people every month through our network of Programs and Community Partner Agencies. One of our newest agencies is the St. Rest Missionary Baptist Church in Quitman. They began partnering with the Food Bank in March to provide food to those struggling with hunger in Jackson Parish.
St. Rest's distribution is currently serving 127 people every month.
"We really appreciate getting this opportunity to help our community," said Vincent Jackson, Deacon Board Chairman. "A lot of people are sick and shut in."
The Food Bank salutes the diligent work of our Community Partner Agencies and our donors who help us keep the pantry shelves full for our neighbors facing hunger. For a list of Community Partner Agencies throughout the 12 parishes we serve, visit foodbanknela.org.
Blessed by Senior Program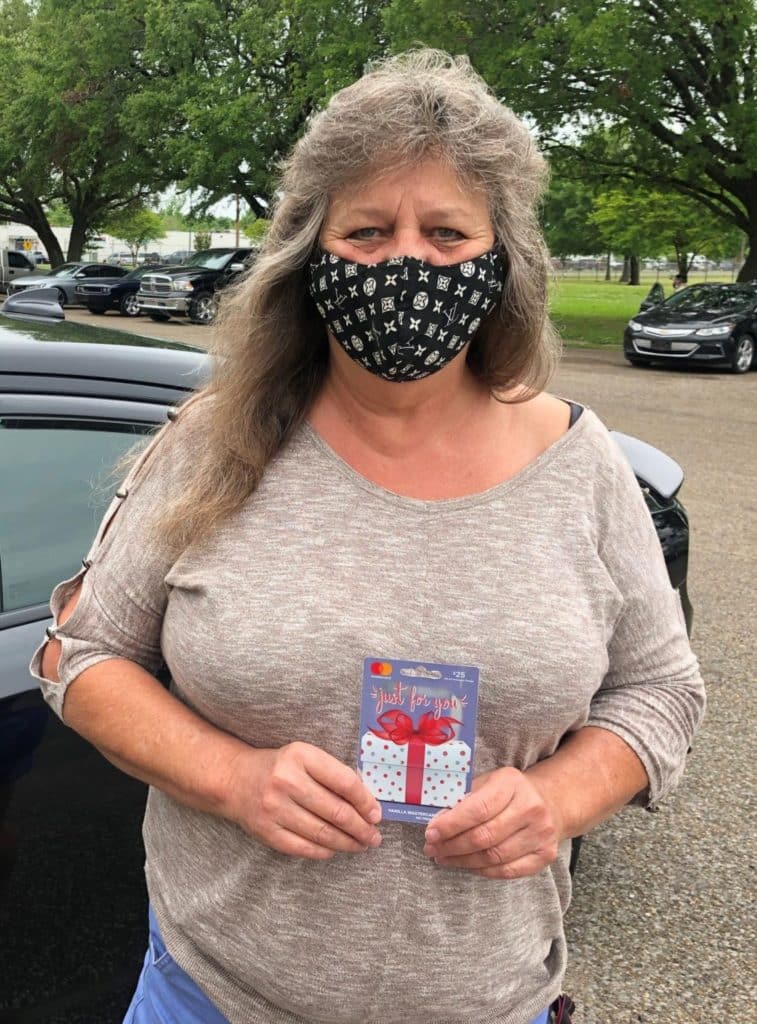 Joyce just joined the Food Bank's Senior Program this year. This program provides monthly groceries to over 1,400 seniors in our community.
"Social security doesn't go far after paying water and light bills, plus medication."
"The senior program is a blessing. Without it, a lot of us who are struggling couldn't make it. The people who are making this possible are God sent. Thank you!"
$100 dollars can provide a senior with groceries every month for a year. Please consider giving today
Our Vision is a strong, caring community that ensures no one in Northeast Louisiana goes hungry.