Walmart and Sam's Club are supporting the Feeding America® nationwide network of food banks, including the Food Bank of Northeast Louisiana through the Fight Hunger. Spark Change. Campaign to help feed those experiencing hunger in our community. Please read to learn about your local Food Bank and the issue of hunger in Northeast Louisiana.
When most of us begin to feel hungry, we ask ourselves one question, "what do I want to eat?" For many of us, there are multiple options. Do we make something to eat at home or go out to a restaurant? Sometimes the options can seem overwhelming. But for many of our neighbors in Northeast Louisiana, there aren't any options.
According to Feeding America's March 2021 Food Insecurity projections, over 66,200 people in our community are food insecure, and of that, over 24,000 are children.
After hearing that staggering statistic, you may ask what exactly is food insecurity? Food insecurity is different than "feeling hungry." Though they relate to each other, hunger refers to a personal, physical feeling caused by a lack of food, while food insecurity refers to a lack of consistent access to enough food for everyone in a household to live an active, healthy life.
There are many factors that can lead to someone experiencing food insecurity. A loss of employment could force someone to choose between buying food and paying bills. An unexpected vehicle repair, or a medical expense for a senior on a fixed income are other common causes for food insecurity.  
The Food Bank of Northeast Louisiana is a member of Feeding America, the largest network of Food Banks in the country.
The Food Bank procures, sorts, inventories and provides food to over 60 partner agencies for distribution into their local communities. In addition, the Food Bank operates six programs that directly provide food to those most vulnerable. Last year, the Food Bank distributed over 7-million pounds of food throughout the 12 parishes we serve.
Where does the food come from?
Food Drives: We receive food donations from community food drives hosted by individuals and groups.
Retail Rescue: Food donations are made by local Walmart's, Sam's Cub and other local retailers. Walmart and Sam's Club partner with Food Bank agencies to provide fresh produce and other food to local communities.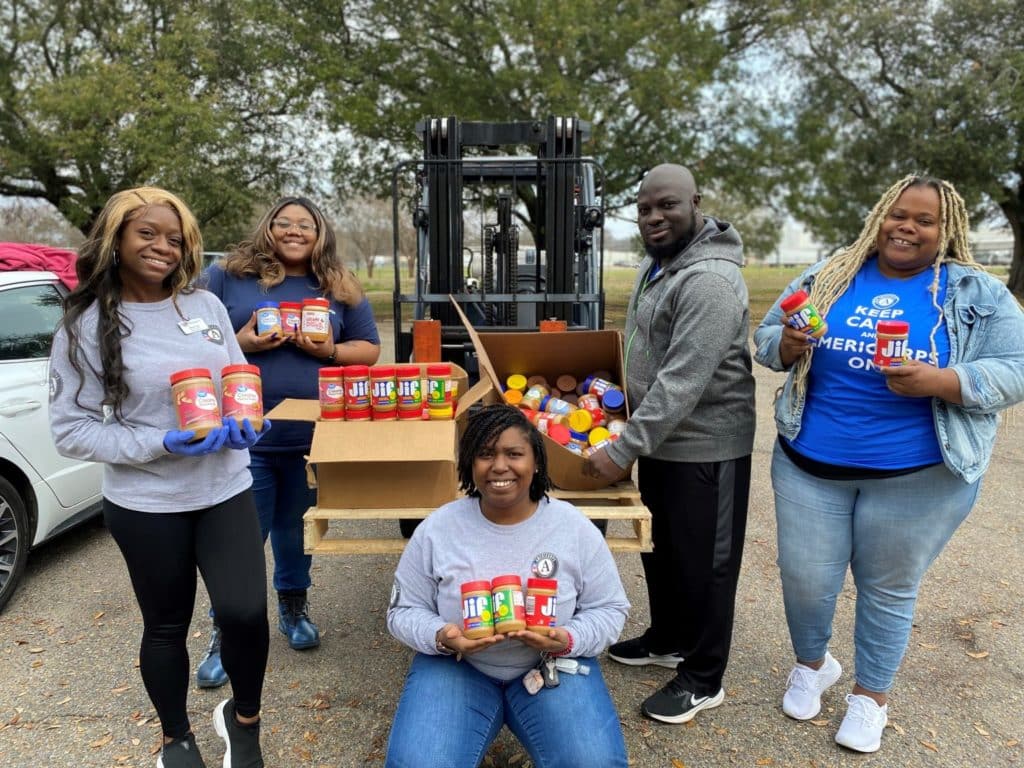 Purchased Food: Food and fresh produce is purchased in bulk with funding from generous individuals and organizations.
United States Department of Agriculture: Commodities are provided through the Emergency Food Assistance Program, or TEFAP, in which the USDA Purchases food from farms to help supplement diets of low-income Americans.
Feeding America: Through our partnership with Feeding America, we can obtain truckloads of nationally donated food, paying only the cost of freight to transport it to our warehouse.
Where does the Food Bank get its funding?
The Food Bank of Northeast Louisiana gets funding through donations made by individual giving, companies, foundations, and other organizations. We host fundraiser events, write grants, and get the word out via mail and online to raise the funds needed for our mission.
The Food Bank is the largest hunger-relief organization in Northeast Louisiana, serving about 30,000 people monthly through our network of programs and partners.
How does the food get to people who need it?
Agency Program: The Agency Program is the Food Bank's primary feeding initiative operated through a network of more than 60 smaller non-profit partner agencies that operate local pantries, soup kitchens, shelters and other hunger relief programs. These agencies are located throughout 12 parishes in Northeast Louisiana and serve our neighbors who are in need of food assistance.
Senior Program: The Food Bank's Senior Program helps low-income senior citizens, aged 60 and older, stretch their budgets by providing them with supplemental food each month. This program has grown to serve 1,435 seniors throughout Northeast Louisiana. The groceries provided varies based on what is available in inventory, but includes about 30 pounds of non-perishable food items such as canned goods, cereal, pasta and snacks. Additionally, we give the seniors fresh produce, dairy, and proteins.
BackPack for Kids Program: The BackPack Program provides children with nutritious and easy-to-prepare food to take home on weekends and school vacations when other resources are not available. Food for our BackPack program is purchased so we can reliably provide kid friendly food they will enjoy. Every week, over 800 children receive the BackPack food for the weekend.
Kid's Cabinet Program: The Kid's Cabinet School Pantry program provides food for low-income students and their families. Each child in the school takes home a bag of food so that their family can prepare meals to share.
Mobile Pantry Distributions: The Food Bank has hosted drive-thru food distributions throughout Northeast Louisiana since the pandemic began. The distributions allow us to bring the food directly to those in need of food assistance.
Disaster Relief Program: The Food Bank stands ready to provide immediate assistance to our member agencies, pop-up and faith-based shelters and other individuals after the events of a natural disaster.

In the Fiscal Year 2021, the Food Bank provided over 7-million pounds of food to those facing hunger in a 12-parish service region. Thanks to generous community support, the Food Bank serves about 30,000 people every month through our partners and programs.
"The food we get really helps us a lot," said Nathan, Food Bank client.
Nathan visited the Food Bank's Mobile Distribution in Ouachita Parish last December.
Nathan hasn't worked since the pandemic began because of a health condition that puts him at high risk for severe complications from COVID-19. Nathan's wife has continued to work as a school bus driver, but he said their limited income is not enough for their family of four.
"We're barely making ends meet," he said.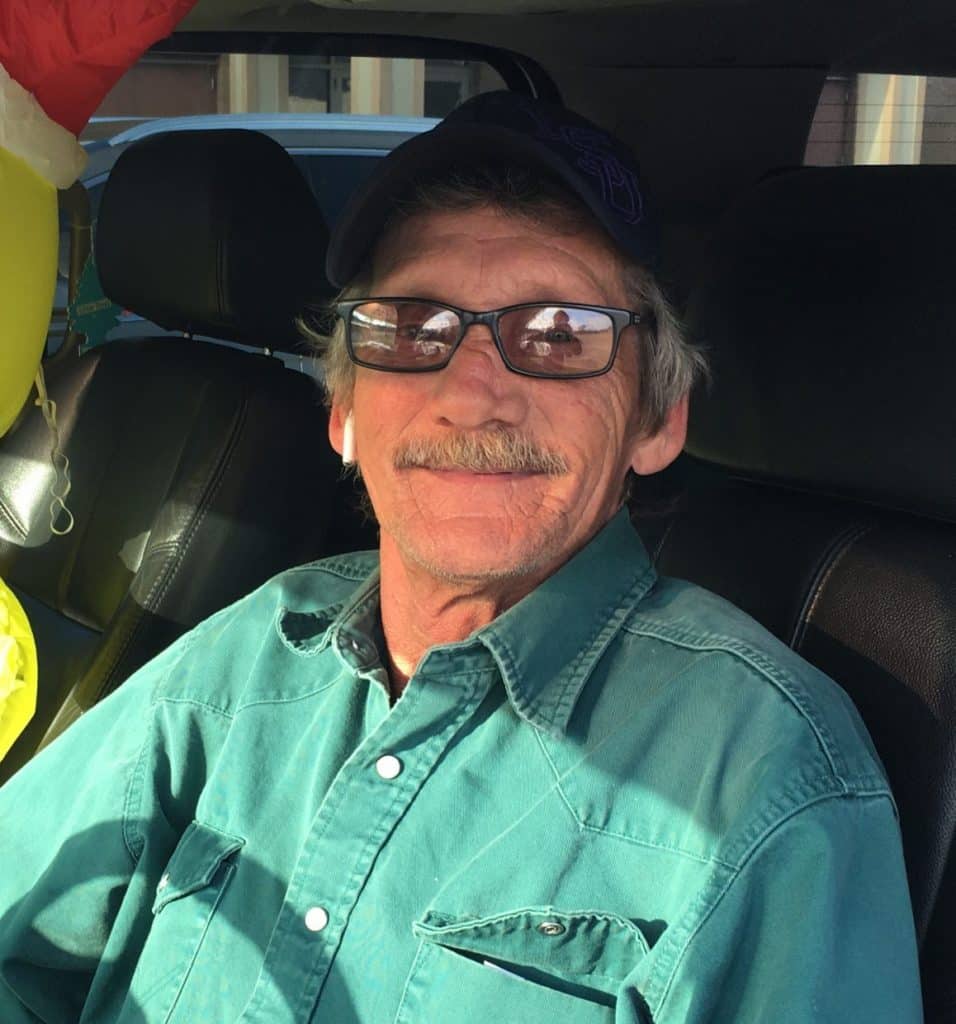 At our mobile distribution, Nathan received chicken, fresh produce, and dairy, along with a 30-pound box of shelf stable food items.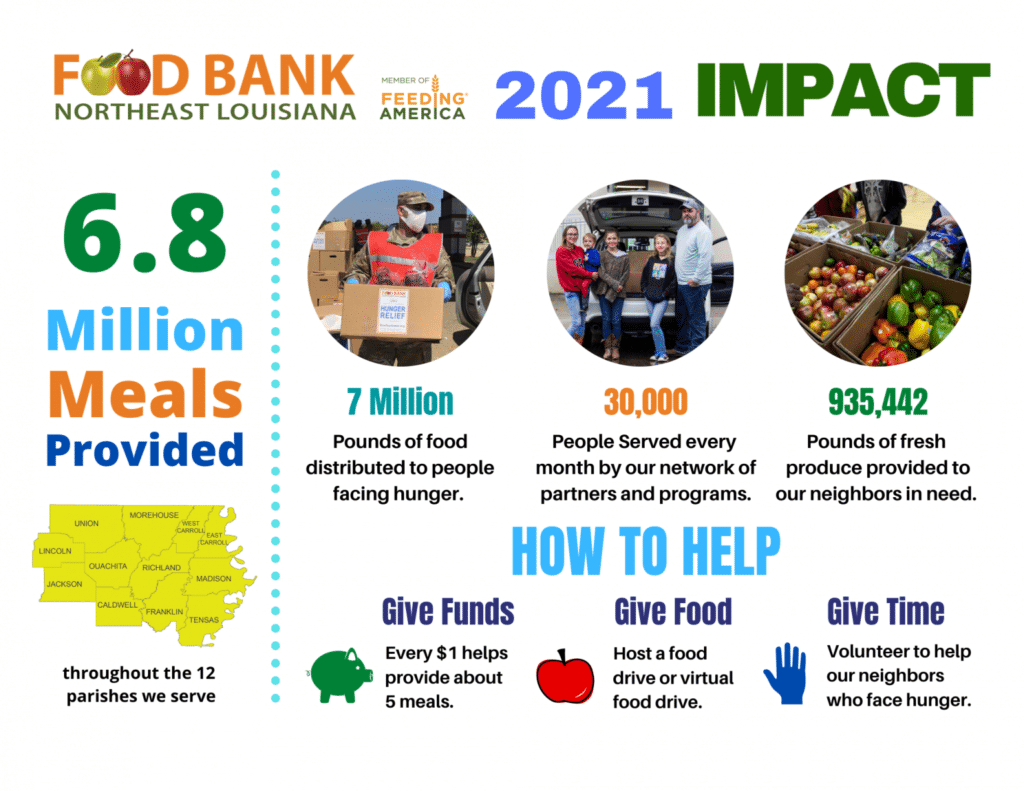 None of the Food Bank's work would be possible without the generosity of many individuals, companies, churches and other organizations.
There are many ways you can get involved with the Food Bank, such as hosting a food or fund drive, donating online to support our hunger-relief efforts, or giving your time by volunteering. Every $1, every can, and every hour makes a difference!
Because of your support, thousands of our neighbors are not without hope. Thank you!