Louisiana has the highest food insecurity rate among seniors in the country, according to a study released by Feeding America. This is the third time Louisiana has received this ranking in the last six years.
Feeding America's State of Senior Hunger in 2021 study sheds light on the extent to which food insecurity – or having limited access to enough food to live a healthy lifestyle – affects individuals aged 60 and older. According to the study, food insecurity rate among seniors in Louisiana is 13.4 percent, or one in seven seniors. Louisiana's rate is almost double the national rate of 7 percent.
How Hunger Affects Senior Health
Seniors have unique nutrition needs and sometimes require specific diets depending on their health. With high grocery and living expenses, many seniors are left making difficult choices between either paying their bills or getting the food they need for a healthy lifestyle. Food insecurity has been linked with:
Poorer Health outcomes: Food insecure seniors are at risk of suffering from health conditions such as congestive heart failure, high blood pressure, asthma, and obesity.
Mental health Issues: The constant worry and uncertainty associated with food insecurity can take a toll on a person's psychological well-being.
How Can Food Insecure Seniors Get Help?
The Food Bank of Northeast Louisiana provides food assistance to thousands of seniors struggling with hunger every month through its Senior Program, Mobile Pantry Program, and network of community partners.
Senior Program: The Food Bank's Senior program provides low-income seniors with groceries each month. Seniors on the program receive a 30-pound box of shelf-stable food items that could include pastas, cereals, grains, and canned vegetables and meats. They also receive fresh produce and proteins that are available in the Food Bank's inventory. To find out if you or someone you know qualifies for the Senior Program, call 318-322-3567.
Community Partners: The Food Bank has a network of about 55 community partners who operate food pantries and meal programs throughout the 12 parishes we serve. To find a local pantry near you, call 318-322-3567 or visit foodbanknela.org/find-food
SNAP Benefits: The Food Bank's SNAP Outreach Coordinator can help determine if you're eligible for benefits, and can even complete the application by phone. Call 318-322-3567.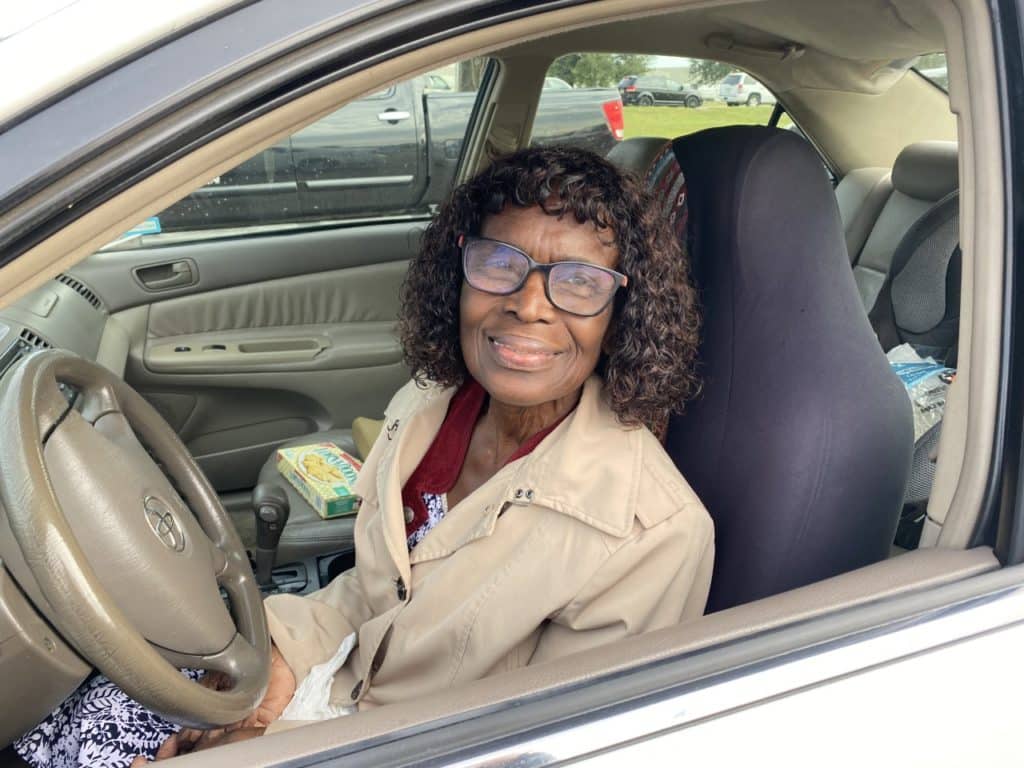 Beatrice is no stranger to food. She worked as a nutritionist at St. Francis Medical Center for years until she retired. Now, she is spending her golden years looking after her great-grandchildren each day after school.
Beatrice lives on a fixed income and has to carefully budget her finances to make ends meet each month. To make things more complicated, she follows a special diet due to her high blood pressure.
She joined the Food Bank's Senior Program three years ago and receives groceries each month. Beatrice told us that although she isn't always able to afford to visit the grocery store, she has continually had food on her shelves thanks to the Food Bank.
"The food box is a blessing," she said. "Without the food box I get, I would have to make decisions between getting my medications or going to the store."