Local Food Insecurity Rates
Overall Food Insecurity Rate
Child Food Insecurity Rate
of food provided to families in need in West Carroll Parish
Served each month, including 106 children and 161 seniors
Our Hunger Relief Network
The Food Bank has multiple food assistance programs in this parish:
Senior Program

Community Partners – 2

Disaster Relief
Your Support Helps Feed Families in West Carroll Parish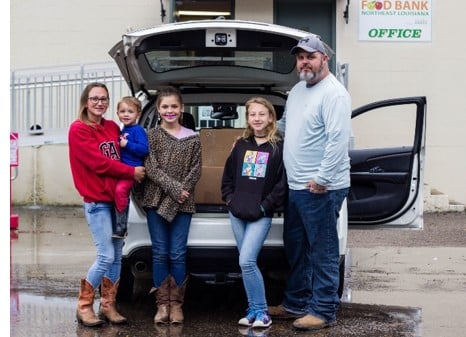 Kevin and Renee drove an hour from West Carroll Parish to the Food Bank in Monroe to get help for their family of five.
Kevin is a heavy equipment operator, and his hours have been cut in half. Renee had just started classes to pursue a career in nursing when the pandemic began, and has been able to continue her education online.
"It's been hard on the kids being out of school; it's not like summer vacation where we can go places. It's hard to keep them fed too," said Renee. "It's awesome that people are coming together during this time of need."